int.ch / multi jch&ch / multi BISS
white and blue pied (d/d)
 l2-hga test ok

 hc test ok 

 hip test ok 

 elbow test ok 

 patella test ok 

 breeding license and temperament test

 DNA profile 
International champion c.i.b.
The man of the house. Panda was bougt after a long search for a male to join our kennel. He was imported from Italy as a minor puppy, and shown within days of arrival. Ever since a young age he was a dream dog in the ring, in two and a half years of intense career he won many placements and made us more than proud. P is retired from showing now, or shown just for fun from time to time. 
Panda is available at stud to selected, health tested bitches. 
Panda was shown on  Crufts 2020.
P was qualified three years in a row, and this time around we decided to make this extralong trip to the UK. Up until the last min we were not sure this trip is about to happen, as there was ongoing covid 19 situation. We had the best fun ever, this absolutely is a show each exhibitor must visit!
Panda got his international championip confirmed by the FCI.
Over the last 2 years of showing he was awarded CACIB more than a dozen of times; he won his first on 24th of February 2018, in Macedonia, under the judge Stefan Mitrevski, and has finished his title in Bosnia and Hercegovina, Banja Luka, under the jugde Olga Grin
We are proud to say our little Panda at only 2.5 years old finished his grand championship of Croatia in a nice competition with staffords from all over Europe (France, Italy, Czech, Croatia, Norway…. )
He added last points for this title at  IDS / NDS Split under the judges Branislav Rajic (CAC, RCACIB) and Mirjana Krstic Arbanas (CAC).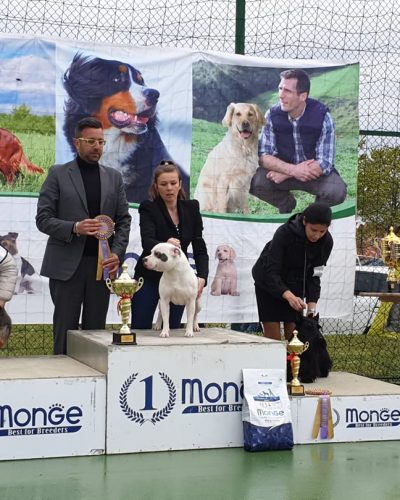 DOUBLE CAC BALE 2019, on the second day Panda got CAC, BEST OF BREED and Best of Group !!
Breed judge mrs. Suzana Verstovšek
Group judges mr. Nikola Smolić 
DOUBLE CAC BALE 2019, on the first day Panda got CAC, BEST OF BREED and Best of Group 3 !!
Breed judge Mrs. Jasna Matejčić. 
Group judge mr. Zlatko Kraljić.
terrier TYPE SPECIALTY SHOW
junior club winner, club winner
12 months old very typical sound male. Excellent head, correct ears, of nice body construction. Correct angulation, sound movement, nice temperament. Excelent, best junior, club junior winner, club winner and best of breed.
junior best of breed, zagreb winner
Young and very typical male, sound temperament, medium strong in constitution. The dog has a typical head with good stop. Well built, sound in movement. Good tail carriage. Excellent, junior best of breed, Zagreb Winner.
CLUB WINNER, reserve BEST IN SHOW
17 months old male, of white color. The dog has a broad skull, very pronounced cheeks, distinct stop. His neck is of good length and muscular, level top line with perfect temperament. Excellent, club winner, best of breed. and reserve BISS. ​