color: blue brindle with white (d/d)
l2-hga test ok

hc test ok 

breeding license and temperament test 

DNA profile 
Another import from Trojans kennel, Italy. Moka is a blue brindle and white female, smaller in size, but with the biggest and happiest personality you have ever seen. She was shown from baby age too, winning the baby Best in Show 3, under the expert Natalia Leonova on her first show ever. She won another baby Best in Show not long after, and then joined the junior class. 
CAC and DOUBLE CACIB PRISHTINA 2019

3XCAC, 2xBOB, CACIB, RCACIB, reserve BEST OF GROUP and CRUFTS QUALIFICATION!!!

With theese results Moka won her second adult title as C𝐇𝐀𝐌𝐏𝐈𝐎𝐍 OF KOSOVO !
Moka [ Mazee Trojans] made us proud in MonteNegro 💪

First time in intermedia class;
2xCAC, CACIB, BOB and reserve BEST OF GROUP!!!

Judges:
Mile Zlatanovic (Srb)
Igor Drobnjak (Mne)

Moka is now 𝐂𝐇𝐀𝐌𝐏𝐈𝐎𝐍 𝐎𝐅 𝐌𝐎𝐍𝐓𝐄𝐍𝐄𝐑𝐆𝐎 🔥🔥🔥
We have a new Croatian junior champion!!!
Moka was shown 6 times in Cro:
CAC Brod (judge Tomislav Canic / jBob, Bob, Bog3)
CAC Miholjac (judge Urošević / no placement)
CAC Drnis (judge Vojislav AlDhagistani / jCac, jBob, BOS )
CACIB Karlovac (judge Jadranka Mijatovic / jCac)
CAC CRIKVENICA (judge Alenka Cernec / no placement) 
CAC OPATIJA (judge Boris Špoljarić / jCac, Bos)
Its official !!!
Moka (Mazee Trojans) is now jCh of Serbia 
I would like to thank to all my friends who helped us in any way, but especially to Milorad Grujičić and Sirmium Style kennel for taking good care of our girl and making this wonderful result possible.
NDS Drnis Moka (Mazee) was shown under the judge Vojislav al Dhagistani (Srb) and has won junior class; junior Cac, junior Best of Breed and Best of Opposite. 
Smiling Moka (Mazee Trojans) after her first win in Croatia..
NDS Slavonski Brod
judge Tomislav Čanić (Bih)
jCAC, jBOB and BOB and Best of Group 3 !!!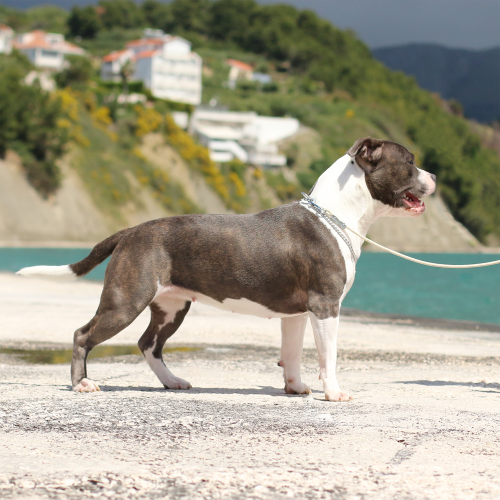 Mazee Trojans aka Moka made her first results in junior class 
On Show Championship in Zepce and Vitez she won:
3x jCAC, 3x jBOB, 2x Best of opposite sex; under the judges Pero Čelebić (Mne), Mirko Čolak (Bih) and Vojislav Al Dhagistani (Srb). 
Tiny stafford female, lovely expression, good ear set, good tail carriage. Nice stance and presentation.
Very nice blue brindle female, nice "show" character. Correct in size and type.
Well put together, excellent topline, held nicely in movement. Broad chest, well sprung ribcage. Excellent head.